CTB, Inc. Promotes Strube to Environmental Health and Safety Manager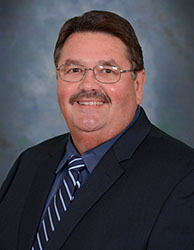 MILFORD, Ind., U.S.A., December 26, 2018 – James Strube has been promoted to the position of Environmental Health and Safety Manager for CTB, Inc., according to Lisa Gee, Vice President of Human Resources for the company. In his new position, he will serve all of CTB's locations.
Strube will have oversight of the company's corporate environmental health and safety program and chair the corporate safety steering committee. He will be responsible for coordinating safety and environmental internal audits and for developing and updating the company's safety and environmental program documentation. He will also be coordinating the employee training required for meeting various OSHA and EPA standards.
Strube previously served as CTB's Employment and Training Manager with responsibilities for the hiring, training and development of employees at CTB's Milford, Indiana, manufacturing facility. He joined CTB in 1979 and has worked in several of the company's manufacturing areas. He has also served as regional project manager for Asia for CTB's International Division.
A graduate of Grace College in Winona Lake, Indiana, Strube has received certification through FranklinCovey, as well as certification in Lean Office principles through the University of Michigan in Ann Arbor, Michigan. He has facilitated numerous FranklinCovey, Lean Manufacturing and Lean Office workshops throughout his career.
Originally from Carmichaels, Pennsylvania, Strube currently resides in Leesburg, Indiana.
About CTB
CTB, Inc. (www.ctbinc.com) is a leading global designer and maker of systems and solutions for storing, conveying and preserving grain; producing poultry, pigs and eggs; and processing poultry, fish, vegetables and other foods. The company also produces buildings, stables, software solutions for food processing and products for various other applications. CTB's strategy for growth includes best cost manufacturing, a product-driven focus, expanded global physical presence, strategic acquisitions and enhanced financial strength. The Berkshire Hathaway-owned company serves its customers through a worldwide distribution network.