Grecco Named Vice President and General Manager for PigTek Americas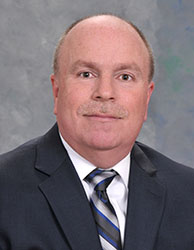 MILFORD, Indiana, U.S.A., December 8, 2014 – PigTek Americas, a division of CTB, Inc., has announced that John Grecco has been named Vice President and General Manager, according to Doug Niemeyer, President and Chief Operating Officer for CTB. PigTek Americas is a manufacturer and provider of pig production systems to the Americas.
In his new role, Grecco will be responsible for oversight of the marketing and supply of CTB pig production systems to the North, Central and South American markets as well as to the Caribbean. He will also work closely with CTB's PigTek Europe organization which provides similar products to other markets.
Grecco has nearly 30 years of experience in the manufacturing and marketing of products to businesses as well as in marketing management. He served most recently as Division Vice President in charge of sales, engineering and operations for a multi-location electronics manufacturing firm. His experience includes proficiency in sales development, product management, manufacturing and process improvement.
A graduate of Indiana University in South Bend, Indiana, Grecco earned a Master of Business Administration and a Bachelor of Science Degree in Business with a concentration in Marketing. Currently residing outside Indianapolis, he will be relocating to the Milford area.
About PigTek
PigTek Americas and PigTek Europe (www.pigtek.net) together serve the global pig production market with complete production solutions including systems for sow and pig care, environmental control, electronic feeding, animal identification and sorting systems, air quality systems and integrated management software. PigTek offers systems under the Agro Logic®, Chore-Time®, Chore-Tronics®, Fancom®, Mannebeck®, Porcon®, Roxell® and Uniqfill® brands. Part of the CTB, Inc. family of companies, PigTek operates globally from facilities in Indiana, the Netherlands and Germany.
About CTB, Inc.
CTB, Inc. (www.ctbinc.com), a Berkshire Hathaway company, is a leading global designer, manufacturer and marketer of systems and solutions for preserving grain; producing poultry, pigs and eggs; and processing poultry. Its products and services are "Helping to Feed a Hungry World®" through grain storage, handling, conditioning and structures; through improved efficiency and air quality management in the care of poultry and livestock; and through efficient and high yield poultry processing. CTB also produces premium equine stables and makes equipment for various industrial applications. Founded as Chore-Time in 1952, CTB has been dedicated to "Leadership Through Innovation®" throughout its history. Based in Milford, Indiana, U.S.A., the company operates from multiple locations in various countries around the world and serves its customers through a worldwide network of independent dealers and distributors.
CTB continues to focus on its strategy for growth, which includes emerging as the best cost manufacturer in the industries it serves, emphasizing its product-driven focus, expanding its global physical presence, fortifying the company through acquisition and enhancing its financial strength.