Chore-Time Initiates Expansion Project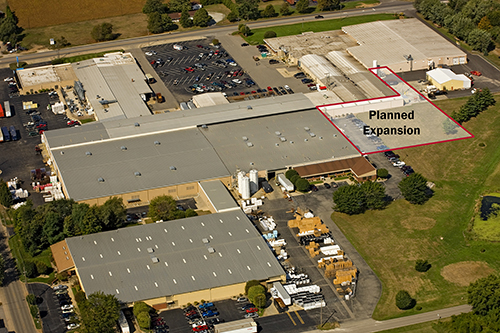 MILFORD, Ind., U.S.A., November 4, 2014 – CTB, Inc.'s Chore-Time Group division announced today its plans to expand its manufacturing operations at its headquarters in Milford, Indiana.
Chore-Time will invest $7.11 million to construct and equip a 45,000-square-foot (4,180-square-meter) addition to its existing 350,000-square-foot (32,500-square-meter) facility in Milford. The addition, which is expected to be operational by the middle of next year, will allow Chore-Time to increase its manufacturing operations and add storage to support growth in global demand for Chore-Time's poultry, egg and pig production systems.
"We have experienced substantial sales growth over the last decade," said Chris Stoler, executive vice president and general manager of the Chore-Time Group. "We are successfully using lean manufacturing principles to get the most from our existing operations and equipment, but increases in demand have challenged our capacity. This expansion, which has been planned over the last year, will allow us to best serve our customers around the globe both now and in the future."
The last expansion to Chore-Time's Milford operation was in 1994, though CTB has had other expansion projects in Milford in recent years, including an expansion to CTB's Brock Grain Systems division plant in 2007 and the purchase of a manufacturing and office facility for CTB's PigTek Americas division in 2012. Chore-Time also has facilities in Alabama, the Netherlands and Poland.
About Chore-Time
Chore-Time (www.choretime.com) has been a leading designer, manufacturer and marketer of poultry and egg production systems since 1952. With a complete line of solutions for feeding, feed handling, drinking, egg handling, climate control and management systems, Chore-Time is known for its revolutionary new concepts, innovative features and extensive independent distribution network. Chore-Time manufactures products for the pig industry as well and sells these through CTB's PigTek Americas business unit, also located in Milford. Part of the CTB, Inc. family of companies, Chore-Time operates globally from facilities in Indiana, Alabama, the Netherlands and Poland. CTB is a Berkshire Hathaway company.