CTB, Inc. Among Five Kosciusko County Businesses Honored By Indiana's Governor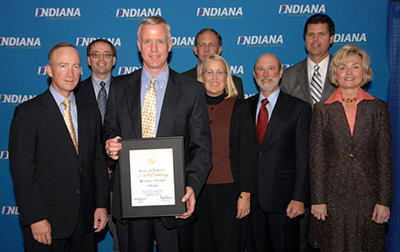 MILFORD, Ind., November 14, 2007 – CTB, Inc. was recently honored for longevity and community service by Indiana Governor Mitch Daniels during the annual Governor's Century and Half Century Business Awards ceremony held at the Indiana statehouse in Indianapolis. The governor presented CTB with a Half Century Award. Lieutenant Governor Becky Skillman and Secretary of Commerce Nathan Feltman joined Daniels in honoring CTB and other recognized companies for their commitment to Indiana.
"These companies are the foundation of economic growth for our state. Home-grown Indiana companies like these provide the stability and longstanding community involvement that typifies our traditional Hoosier values," said Governor Daniels.
The Governor's Century and Half Century Business Awards honor Indiana businesses that have remained in operation for 100 or 50 years or more and have also demonstrated a history of community service. More than 1,000 companies from across Indiana have been recognized during the 17-year history of the Awards.
Originally founded as Chore-Time Equipment in Ohio in 1952, CTB has been in continuous operation in Indiana since 1954. The company is a leading global designer, manufacturer and marketer of systems and solutions for the poultry, pig, egg production, and grain industries. Its products and services are "Helping to Feed a Hungry World®" through improved efficiency in the care of poultry and livestock as well as in grain storage, handling, conditioning and drying.
Nominated by individuals or organizations within the same community, the Century and Half Century Awards honor Indiana's well-established companies and their outstanding contributions to the economic growth and prosperity of the state.
CTB has been dedicated to "Leadership Through Innovation®" throughout its history. The company operates from multiple locations in various countries around the world and serves its customers through a worldwide network of independent dealers and distributors. CTB's web address is www.ctbinc.com.