CTB, Inc. Recognizes Employee Service Milestones in Second Quarter 2020
MILFORD, Indiana, U.S.A. — CTB, Inc. has recognized those who achieved work milestones during the second quarter of 2020. The company extended its congratulations to the following employees for their recent work anniversaries and their contributions to CTB, Inc. and its business units: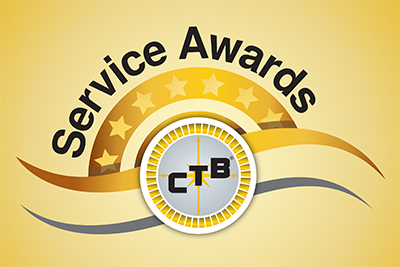 30 Years of Service
Jennifer Leatherman
John Mundy
25 Years of Service
Joy Frailey
Jeffrey Shields
Kenneth Tom
Brian Whitaker
Shelley Krider
15 Years of Service
Esad Bacinovic
Timothy Buckholz
Thornton Clark
Fehim Kapetanovic
Jeffrey L. Miller
10 Years of Service
Van Huynh
Mustafa Kuduzovic
Dustin Loudermilk
Martin van den Berg
5 Years of Service
Matthew Blevins
Petra Broekhuizen
Jim Brown
Charles Butcher
Lorenzo DeGaetano
Dorothy Dye
Matthew Geese
Zeth Hoffer
Brenda Hughes
Zachariah Jones
Sandra Mignerey-Jones
Michael Miller
Barbara Olson
Erick Owsley
Clifford Parker II
Brayden Roe
Daniel Schmale
Craig Smallegan
Kenneth Smith
Marcus South
Dane Thompson
Carrie Thompson
Peter van Bergeijk
Ricki Weaver
Jodi White
Erwin Zondag
According to Michael J. Kissane, CTB Vice President and General Counsel, "We are very proud of these employees. Each one is helping to contribute to our mission of Helping to Feed a Hungry World®. We continually work to create and perpetuate a rewarding work environment, and it shows in the longevity and dedication of our team."
About CTB
CTB, Inc. (www.ctbinc.com) is a leading global designer and maker of systems and solutions for storing, conveying and preserving grain; producing poultry, pigs and eggs; and processing poultry, fish, vegetables and other foods. The company also produces buildings, stables, software solutions for food processing and products for various other applications. CTB's strategy for growth includes best cost manufacturing, a product-driven focus, expanded global physical presence, strategic acquisitions and enhanced financial strength. The Berkshire Hathaway-owned company serves its customers through a worldwide distribution network.