CTB, Inc. Recognizes Employee Service Milestones in Second Quarter 2022
MILFORD, Indiana, U.S.A. — CTB, Inc. has recognized those who achieved work milestones during the second quarter of 2022. The company extends congratulations and thanks the following employees for their contributions to CTB, Inc. and its business units:
40 Years of Service
Larry Buckholz
James Sumpter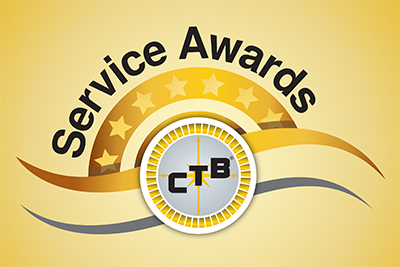 35 Years of Service
Steven Estes
Patrick Halbrooks
Scott Peters
30 Years of Service
Marc Plastow
Adam Wilson
William Winchell
25 Years of Service
Michael Alvarado
Canton Stephens
20 Years of Service
Tamer Adams
15 Years of Service
David Jackson, Jr.
Robert Peters
10 Years of Service
Tyler Ginder
Monty Miller
Cole Muhlenbruch
Gilberto Olmos
Calvin Primus
James Rooney
Phillip Wiebrand
Five Years of Service
Lloyd Kelley
Barry Mariage
Harry Marshall
Michael McDowell
David Pickering
Timothy Stinson
Gerald Tegtmeier
James Vail
"We are excited to announce this latest group of work anniversaries, ranging from five to 40 years of dedicated service," said Michael J. Kissane, CTB Executive Vice President and Chief Administrative Officer. "Their contributions have been crucial in CTB's global mission of Helping to Feed a Hungry World®."
ABOUT CTB
CTB, Inc. (www.ctbinc.com), a Berkshire Hathaway subsidiary, is a leading global designer, manufacturer and marketer of solutions developed with the goal of equipping its customers to join it in Helping to Feed a Hungry World®. CTB's customers use its products for preserving grain; for raising pigs and poultry to harvest meat and eggs; and for processing poultry, fish and other foods. CTB deploys its financial strength to grow via a product-driven focus, strategic acquisitions, an expanded global physical presence and best-cost manufacturing. The company is headquartered in Milford, Indiana, U.S.A., and employs 3,000 people worldwide.