CTB, Inc. Recognizes Employee Service Milestones in Third Quarter 2019
MILFORD, Indiana, U.S.A. — CTB, Inc. has recognized those who achieved work milestones during the third quarter of 2019. The company extended its congratulations to the following employees for their recent work anniversaries and their contributions to CTB, Inc. and its business units: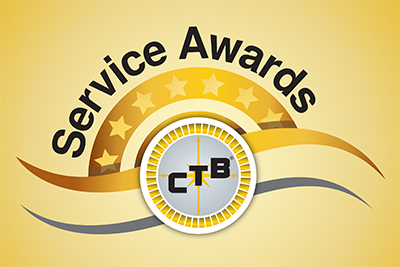 45 Years of Service
Major N. King
40 Years of Service
Larry A. Cripe
Rex D. Fisher
Roger S. Kiphart
James R. Strube
35 Years of Service
Charles F. Wheeler
Michael L. Wheeler
30 Years of Service
Stephen M. Batson
Brian E. Haines
Mike D. Horn
Glen W. Stowers
Thomas S. Trowbridge
25 Years of Service
Jason L. Avery
Dawn A. Bender
Jeffrey D. Culp
Dinah L. Goodnight
Ricardo Rodriguez
Terry L. Tom
15 Years of Service
Sanpio E. Cortez
Crystal L. Tudor
10 Years of Service
Tomasz Frankowski
Joseph L. Gonzalez
Adam Kotlarek
Steven L. Lambert
Johan Muis
Jorge Valdez
5 Years of Service
Kelli A. Amsden
Shawn I. Anderson
Justin C. Arnett
Skyler E. Compton
Jeffrey L. Conder
Terry L. Coomes
Jordan K. Drudge
Kimberly B. Elvidge
Michelle Flynn
Clayton Hoermann
Bobby D. Irish Jr.
Cody R. McDaniel
Timothy J. Moore
Denise Y. Rabe
Shawn D. Ricketts
Pamela K. Slabaugh
Joseph Stanczak
Stephen D. Stayer
Michael L. Stover
Gerald A. VanMeter
Heriberto Vasquez Huerta
James D. Wilson
"We're extremely proud of these employees and their contributions to our mission of Helping to Feed a Hungry World®," said Lisa Gee, Vice President of Human Resources for CTB, Inc. "We strive to create a rewarding work environment, and it shows in the longevity and dedication of our team."
About CTB
CTB, Inc. (www.ctbinc.com) is a leading global designer and maker of systems and solutions for storing, conveying and preserving grain; producing poultry, pigs and eggs; and processing poultry, fish, vegetables and other foods. The company also produces buildings, stables, software solutions for food processing and products for various other applications. CTB's strategy for growth includes best cost manufacturing, a product-driven focus, expanded global physical presence, strategic acquisitions and enhanced financial strength. The Berkshire Hathaway-owned company serves its customers through a worldwide distribution network.