CTB, Inc. Recognizes Employee Service Milestones in Third Quarter 2020
MILFORD, Indiana, U.S.A. — CTB, Inc. has recognized those who achieved work milestones during the third quarter of 2020. The company extended its congratulations to the following employees for their recent work anniversaries and their contributions to CTB, Inc. and its business units: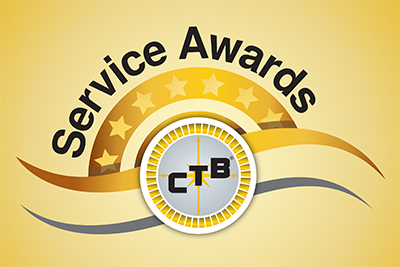 35 Years of Service
Kevin Cool
Brian Kistler
Stephen VanCuren
30 Years of Service
Donald Higginbotham
25 Years of Service
Ronda Coburn
Teresa Peters
Jason Stoner
Theo Timmerman
20 Years of Service
Robert Jensen
Stanley Witmer
15 Years of Service
Christopher Elvidge
Scott Mast
10 Years of Service
Robby Anderson
Elizabeth Beck
Adrian Chavez
Alberto Covarrubias
Brent Escoe
William Holscher
Ryan Kennedy
Dylan Nordman
Joel Seeley
5 Years of Service
Brian Barnes
Ryan Baumgartner
Gilbert Bice
Kyle Bruner
Jeffery Collins
Michael Conley
Patricia Contreras
Candy Diaz
Eric Donica
Frederick Duell
Karen Farr
Chase Fosnaught
Chad Fouts
Clinton Fouts
Adam Gutwein
Scott Haines
Rory Hughes
Cynthia Jordan
Christopher Moore
Theresa Reyes
Christy Roatcap
Joel Shaver
Scott Shung
Matthew Spencer
Kevin Stichter
Emily Tyler
James Wise
According to Michael J. Kissane, CTB Vice President and General Counsel, "We are very proud of these employees. Each one is helping to contribute to our mission of Helping to Feed a Hungry World®. We continually work to create and perpetuate a rewarding work environment, and it shows in the longevity and dedication of our team."
About CTB
CTB, Inc. (www.ctbinc.com) is a leading global designer and maker of systems and solutions for storing, conveying and preserving grain; producing poultry, pigs and eggs; and processing poultry, fish, vegetables and other foods. The company also produces buildings, stables, software solutions for food processing and products for various other applications. CTB's strategy for growth includes best cost manufacturing, a product-driven focus, expanded global physical presence, strategic acquisitions and enhanced financial strength. The Berkshire Hathaway-owned company serves its customers through a worldwide distribution network.