CTB, Inc. Recognizes Employee Service Milestones in Third Quarter 2021
MILFORD, Indiana, U.S.A. — CTB, Inc. has recognized those who achieved work milestones during the third quarter of 2021. The company extends its congratulations to the following employees for their recent work anniversaries and their contributions to CTB, Inc. and its business units: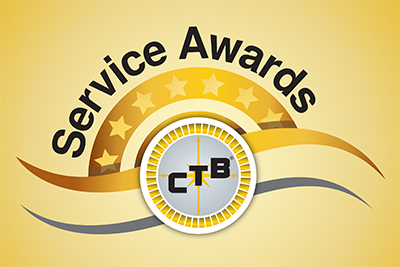 35 Years of Service
Jeffrey Brinkerhoff
30 Years of Service
Jesse Allen
Dennis Kern
Jeffrey Sheline
25 Years of Service
Stephanie Bradshaw
Tonya Culp
Tim Geyer
Donald Leckrone
Daniel Oplinger
Vickie Patrick
20 Years of Service
Richard Rush
15 Years of Service
Nathaniel Bryan
Michael Crissinger
Jeffrey Dardeen
David Morgan
George Nordman
10 Years of Service
Alfredo Acevedo
Thomas Buchanan Jr.
Blaine Buttermore
James Cavender
Brian Clouse
Kevin Damron
Kathleen Garner
Cynthia Gibson
Christy Hoffman
Charles Noble
Ashley Shelton
Robert Sinclair
John Wright
Five Years of Service
Christy Gordon
Robert Haywood
Saw Htite
Orlando Jimenez
Kristin Mason
David O'Connor
Brian Opat
Michael Porter
Clara Ramirez
Jeremy Warren
According to Michael J. Kissane, CTB Executive Vice President and Chief Administrative Officer, "It is an honor to be able to recognize a long list of employees for their years of dedicated service to CTB. We are grateful for their contributions to our global mission of Helping to Feed a Hungry World®. Their commitment helps us to create and perpetuate a rewarding work environment within each of our business units."
About CTB
CTB, Inc., a Berkshire Hathaway subsidiary, is a leading global designer, manufacturer and marketer of solutions developed with the goal of equipping its customers to join it in Helping to Feed a Hungry World®. CTB's customers use its products for preserving grain; for raising pigs and poultry to harvest meat and eggs; and for processing poultry, fish and other foods. CTB deploys its financial strength to grow via a product-driven focus, strategic acquisitions, an expanded global physical presence and best-cost manufacturing. The company is headquartered in Milford, Indiana, U.S.A., and employs 3,000 people worldwide.