CTB Inducted into Kosciusko County Entrepreneur and Innovation Hall of Fame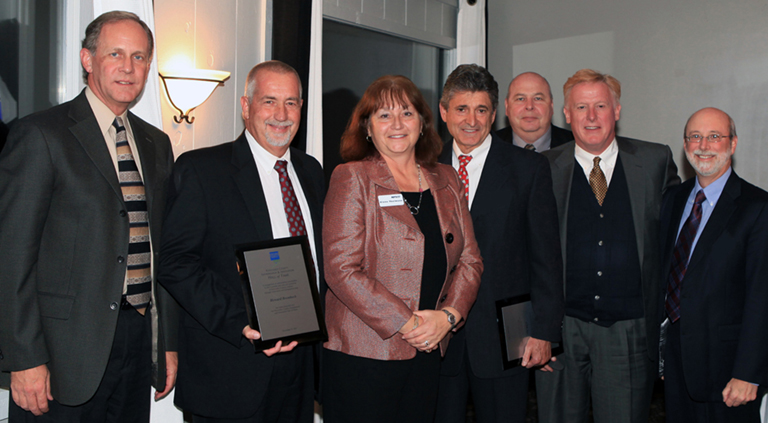 MILFORD, Ind., November 3, 2011 – CTB, Inc. was inducted into the Kosciusko County Entrepreneur and Innovation Hall of Fame on Thursday, November 3, in Warsaw, Indiana at the inaugural Spirit of Enterprise Hall of Fame banquet. The company was one of six county businesses honored by the Kosciusko Economic Development Corp. (KEDCo) for its role in making the county a hub for innovation and entrepreneurship.
The award presentation recognized both the company and its founder. Victor A. Mancinelli, CTB president and chief executive officer, accepted the award on behalf of the company. Rich Geiser, 37-year CTB employee, accepted the award on behalf of founder Howard Brembeck. A permanent display will also be housed at the county offices. According to George Robertson, KEDCo Executive Director, the Hall was created to recognize entrepreneurial organizations in the community as well as to reinforce the pride of employees and citizens in the success of the local business environment.
CTB was founded by Brembeck in 1952 as Chore-Time Equipment, with a goal of creating innovative products that would save time and increase efficiency in completing farm chores. With a dedication to innovation, CTB has continued to expand and introduce new products. The company became a wholly owned subsidiary of Berkshire Hathaway Inc. in 2002. Since that time, CTB has grown at an annual rate of nearly 20 percent. The company's trademarked vision statement is "Leadership Through Innovation®."
About CTB
CTB, Inc. is a leading global designer, manufacturer and marketer of systems and solutions for the production of grain, poultry, pigs and eggs, as well as for various equestrian and industrial applications. Its products and services are "Helping to Feed a Hungry World®" through improved efficiency and air quality management in the care of poultry and livestock as well as in grain storage, handling, conditioning and drying. Founded in 1952, CTB has been dedicated to "Leadership Through Innovation®" throughout its history. The company operates from multiple locations in various countries around the world and serves its customers through a worldwide network of independent dealers and distributors.
CTB continues to focus on its strategy for growth, which includes expanding its global physical presence, as well as extending its competitive advantage through accretive acquisitions and/or other beneficial business arrangements, emerging as the best cost manufacturer in the industries it serves, emphasizing its product-driven focus and enhancing its financial strength.