CTB Retiree Medlock Honored by American Poultry Historical Society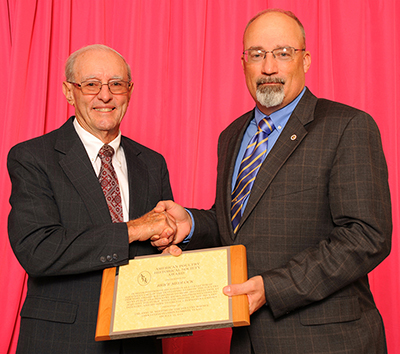 MILFORD, Indiana, U.S.A., August 4, 2014 – Brice Medlock, who retired from CTB, Inc. in 2004 after 28 years of service, was recently presented with the American Poultry Historical Society Award. The award was presented by Doug Cosby of the Historical Society on July 16, 2014, at the Poultry Science Association Annual Meeting in Corpus Christi, Texas.
The American Poultry Historical Society Award is given to stimulate interest in documenting and recording historical information regarding poultry industry development, to preserve artifacts and other items of historical interest to the poultry industry, and to encourage the publication of recorded historical information in papers, books, etc. The award is given for sustained contributions.
Medlock spent his career at CTB in its Chore-Time business unit in the customer service and sales areas of the business, and held the position of district sales manager at the time of his retirement. In 1996, he was honored by the Indiana State Poultry Association with their annual Golden Egg Award given in recognition of the extraordinary commitment and outstanding determination of an individual who has contributed in an exceptional way to the Indiana poultry industry. Medlock and his wife Fay reside in Syracuse, Indiana.
About CTB
CTB, Inc. (www.ctbinc.com), a Berkshire Hathaway company, is a leading global designer, manufacturer and marketer of systems and solutions for preserving grain; producing poultry, pigs and eggs; and processing poultry. Its products and services are "Helping to Feed a Hungry World®" through grain storage, handling, conditioning and structures; through improved efficiency and air quality management in the care of poultry and livestock; and through efficient and high yield poultry processing. CTB also produces premium equine stables and makes equipment for various industrial applications. Founded as Chore-Time in 1952, CTB has been dedicated to "Leadership Through Innovation®" throughout its history. Based in Milford, Indiana, U.S.A., the company operates from multiple locations in various countries around the world and serves its customers through a worldwide network of independent dealers and distributors.
CTB continues to focus on its strategy for growth, which includes emerging as the best cost manufacturer in the industries it serves, emphasizing its product-driven focus, expanding its global physical presence, fortifying the company through acquisition and enhancing its financial strength.
Photo Caption:
Brice Medlock (left) accepts the American Poultry Historical Society Award from Doug Cosby of the Society.