Meyn Americas to Construct South Carolina Parts Distribution Facility
BALL GROUND, GA., May 17, 2023 – Meyn Americas, LLC, a leading poultry processing solutions company, announced plans to construct an 80,000-square-foot, Green Globes-certified parts distribution facility in the economic development business park of Oconee County, SC. The facility is intended to accelerate and improve the accuracy of Meyn's growing parts business to support customers throughout the U.S., Canada, Mexico and Latin America.
Todd Rhodes, vice president and general manager of Meyn Americas, said, "As part of our continuous improvement effort, we are always exploring opportunities to improve the customer experience. This new distribution facility will enable us to fulfill our growing customer parts orders more quickly and accurately. In addition, by establishing roots in South Carolina – two hours from our Georgia facility, we will diversify risk caused by any unplanned weather disruptions, allowing us to continue uninterrupted fulfillment of customer orders."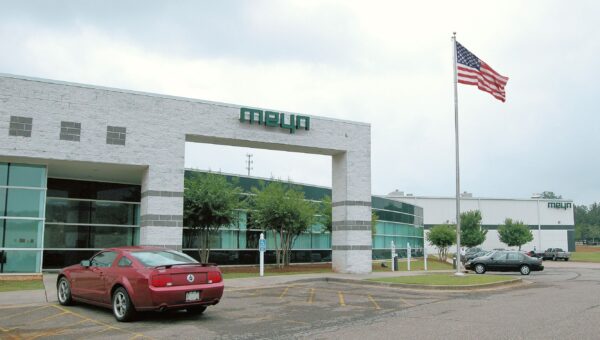 Michael Otterbach, vice president of Parts Operations for Meyn America, added, "When this facility becomes operational, it will harness state-of-the-art automation technology that will significantly improve our OCE (on-time, complete and error-free) shipment to customers."
Joost Weel, managing director of Meyn Food Processing Technology B.V., said, "This move represents a significant milestone in our global supply chain strategy, and we expect it will have the important added benefit of helping us reduce our company's carbon footprint."
Currently, parts are shipped via air from distribution centers throughout Europe to Meyn America's customers – resulting in high CO2 emissions. Meyn's new South Carolina facility will house a robust parts inventory that will be delivered to customers over land and sea – transportation modes proven to be less carbon intensive than air.
In addition, the distribution facility's project managers are pursuing Green Globes building certification, by reducing the project's environmental impact, identifying opportunities to save energy and minimize future maintenance costs, and fostering a healthy work environment for employees.
The company is investing $10.8 million in the construction of the warehouse, which it expects to be operational by the third quarter of 2024.
About Meyn
Meyn is a subsidiary of CTB, Inc., which is a wholly owned subsidiary of Berkshire Hathaway Inc. Headquartered in Oostzaan, the Netherlands, the company designs and manufactures poultry processing equipment for processing plants in more than 100 countries and is widely recognized for its ability to support customers as they strive for higher capacity, increased yield and greater efficiency.
ABOUT CTB
CTB, Inc. (www.ctbinc.com), a Berkshire Hathaway subsidiary, is a leading global designer, manufacturer and marketer of solutions developed with the goal of equipping its customers to join it in Helping to Feed a Hungry World®. CTB's customers use its products for preserving grain; for raising pigs and poultry to harvest meat and eggs; and for processing poultry, fish and other foods. CTB deploys its financial strength to grow via a product-driven focus, strategic acquisitions, an expanded global physical presence and best-cost manufacturing. The company is headquartered in Milford, Indiana, U.S.A., and employs 3,000 people worldwide.