Rural High-Speed Internet Access Importance Demonstrated to Officials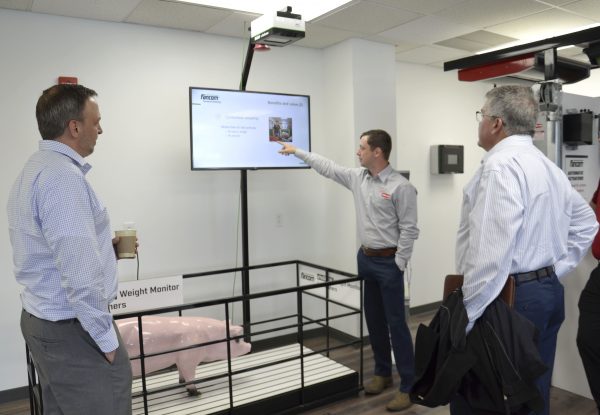 MILFORD, Ind., U.S.A., May 1, 2019 – The critical importance of broadband accessibility in rural Indiana was the topic of a meeting April 30 at CTB, Inc., in Milford. Bruce Kettler, Director of the Indiana State Department of Agriculture (ISDA) and Scott Rudd, Director of Indiana Broadband Opportunities met with representatives of CTB's PigTek, Chore-Time and Brock divisions.
In the meeting, arranged through PigTek, company representatives had an opportunity to provide input and demonstrate the importance of rural connectivity/broadband in Indiana and elsewhere.
"The gathering was an opportunity for us to demonstrate firsthand the technology that PigTek and other CTB companies are developing," John Grecco, Vice President and General Manager of PigTek, explained. "With the current trend in agriculture for generating and utilizing more data, we can give practical examples for why high-speed internet access is important to farmers."
ISDA Requested the Meeting
Kettler and Rudd requested the meeting with PigTek and CTB. Their goal is getting a clear understanding of the current and future needs as well as potential benefits broadband offers to rural communities.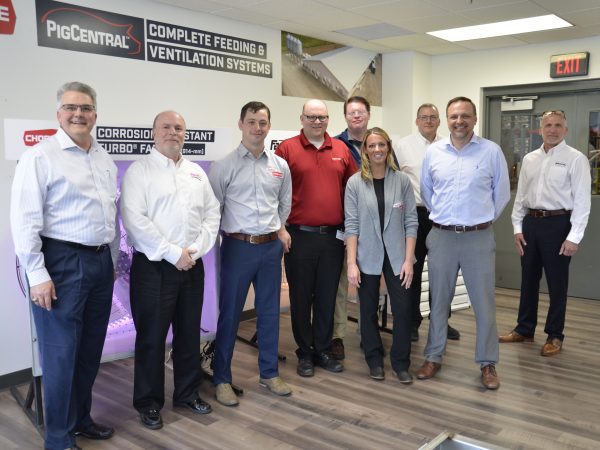 According to Kettler, Indiana Governor Eric Holcomb last year allocated monies toward bringing broadband into the rural areas. Rudd was subsequently hired to analyze the need with a goal of recommending allocation of the monies. He is the main point of contact on broadband issues for Indiana.
Holcomb's administration notes the need for access to reliable, affordable broadband service is critical for unlocking the full potential of agriculture and rural Indiana. High-speed internet access has an immense impact on agriculture, the educational system, workforce development, healthcare, economic development, quality of life and so many other areas.
As an example of the impact broadband could bring, Rudd notes a study published last month by the U.S. Chamber of Commerce found that Indiana would be among the top 10 states to see the most job creation through improving rural broadband access. The report projected that roughly $2 billion could be added to Indiana's economy by 2021.
For more information about Indiana's rural broadband efforts, check out this link.
About PigTek
PigTek Americas (www.pigtek.net) offers complete hog production solutions including systems for managing sow health and growing pigs from wean to finish, environmental control, electronic feeding, animal identification and sorting systems, air quality systems and integrated management software. PigTek offers systems under the Chore-Time® and Fancom® brands. Part of the CTB, Inc. family of companies, PigTek operates globally from Milford, Indiana
About CTB
CTB, Inc. (www.ctbinc.com) is a leading global designer and maker of systems and solutions for storing, conveying and preserving grain; producing poultry, pigs and eggs; and processing poultry, fish, vegetables and other foods. The company also produces buildings, stables, software solutions for food processing and products for various other applications. CTB's strategy for growth includes best cost manufacturing, a product-driven focus, expanded global physical presence, strategic acquisitions and enhanced financial strength. The Berkshire Hathaway-owned company serves its customers through a worldwide distribution network.