Trcka Named Account Manager for Ironwood Plastics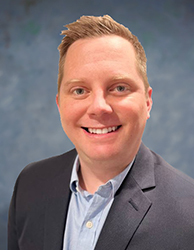 MILFORD, Ind., U.S.A., January 7, 2022 – Corey Trcka has been named Account Manager for Ironwood Plastics Inc., according to Dave Zielinski, Business Development Manager for the CTB, Inc. business unit. Trcka will begin his employment learning the role of Sales Engineer, a position responsible for receiving and responding to customer quotes. After completing his training, he will continue to be involved with the quote process and begin taking on Account Management duties with Ironwood's customers.
Prior to his employment with CTB, Trcka gained vast experience in the roles of Sales Engineer, Product Manager, Engineering Manager, Project Manager and Sales Representative within the manufacturing and construction industries.
He earned his bachelor's degree in business management from the University of Wisconsin-Stout, Menomonie, Wisconsin, and has an associate degree in architectural design from Northcentral Technical College, Wausau, Wisconsin.
Trcka is a native of Hurley, Wisconsin.
About Ironwood Plastics Inc.
Ironwood Plastics Inc. is a subsidiary of CTB, Inc., a Berkshire Hathaway Company, that prides itself on Leadership Through Innovation®. Founded in 1979, Ironwood is well established in the plastics industry with an emphasis on insert molding and engineered materials. Ironwood serves a diverse client base, including those in the automotive, electronics, industrial, medical and military industries.
About CTB, Inc.
CTB, Inc., a Berkshire Hathaway subsidiary, is a leading global designer, manufacturer and marketer of solutions developed with the primary goal of equipping its valued customers to join it in Helping to Feed a Hungry World®. CTB's customers use its products for preserving grain; for raising pigs and poultry to harvest meat and eggs; and for processing poultry, fish and other foods. CTB deploys its financial strength to grow via a product-driven focus, strategic acquisitions, an expanded global physical presence and best-cost manufacturing. The company is headquartered in Milford, Indiana, U.S.A., and employs 3,000 people worldwide.