U.S. Secretary of Agriculture Holds Town Hall Meeting at CTB in Milford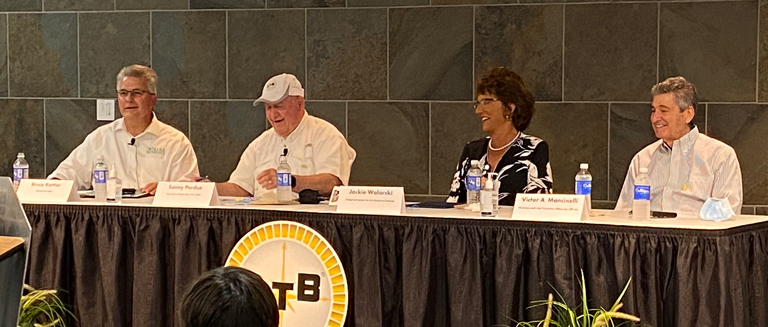 MILFORD, Ind., U.S.A., August 21, 2020 – U.S. Secretary of Agriculture Sonny Perdue was at CTB, Inc., taking part in an Indiana agriculture and manufacturing town hall meeting at the Milford, Indiana-based company on August 21.
Perdue was joined in the invitation-only meeting by CTB Chairman and Chief Executive Officer Victor A. Mancinelli, U. S. Representative Jackie Walorski (R-2nd) and Indiana State Department of Agriculture Director Bruce Kettler. This was the first in-person town hall meeting Perdue has held since the beginning of the COVID-19 pandemic.
The meeting, arranged through CTB and the Indiana State Department of Agriculture, featured a wide-ranging discussion with state and local area farmers and agribusiness representatives on topics impacting Indiana agriculture and manufacturing and included challenges presented by agricultural trade disruptions and supply chain issues from the COVID-19 pandemic.
"The town hall meeting was a unique opportunity for us to promote discussions on issues and policies involving Indiana agriculture," Mancinelli noted. "While visits like this permit us to showcase CTB, our innovative agricultural products and our manufacturing capabilities, we are also grateful for the opportunity to provide direct feedback to federal and state policymakers."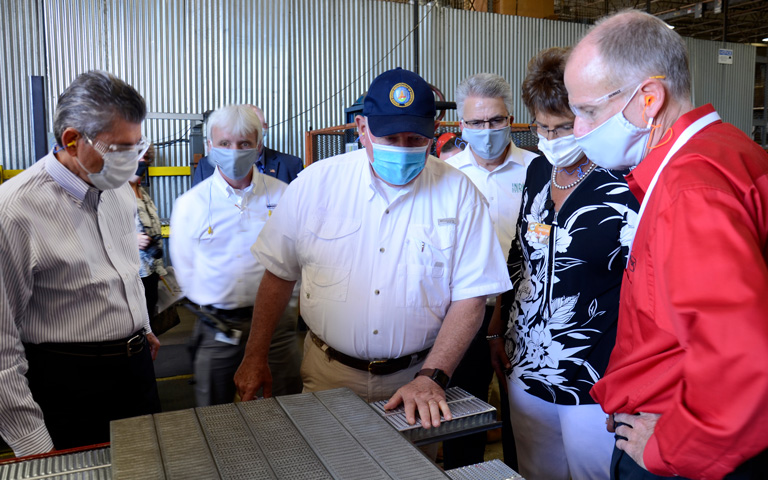 When asked why he chose to come to Milford, Perdue responded, "We try to get out in the country to hear what's happening out here. Farmers are not usually very timid about telling you. If you ask them, they'll tell you what's going on."
Earlier in the day, Perdue toured a blueberry farm and a food bank in southwest Michigan. Prior to the town hall meeting, Perdue took a tour of CTB's Brock Grain Systems grain bin manufacturing facility.
The former two-term Governor of Georgia observed during the town hall that he grew up on a dairy farm in that state and they had several Brock bins on his family's farm. "It's a very reliable product," Perdue proclaimed, adding that it was exciting to be able to see how grain bins are produced today.
About CTB
CTB, Inc. (www.ctbinc.com) is a leading global designer and maker of systems and solutions for storing, conveying and preserving grain; producing poultry, pigs and eggs; and processing poultry, fish, vegetables and other foods. The company also produces buildings, stables, software solutions for food processing and products for various other applications. CTB's strategy for growth includes best cost manufacturing, a product-driven focus, expanded global physical presence, strategic acquisitions and enhanced financial strength. The Berkshire Hathaway-owned company serves its customers through a worldwide distribution network.